Keynote Sessions
A feature of every Rootstech is the keynote sessions. The keynote speakers are experts and well known people in their field, often with seemingly nothing to do with genealogy. They come from all over the world, and are a highlight of every Rootstech. By the time day three arrived, I hadn't yet had time to watch any keynote sessions, so I decided that the theme for day three would be Keynotes. , I watched six keynote sessions and really enjoyed each of them. However, for me, there were two stand out highlights.
Nick Vujicic
You Matter: Nick is an Australian/American, who was born without arms or legs. He travels the world spreading his message of how he discovered his life purpose. . Nick travels the world talking about hope and kindness and much more. From his first word I was hooked and it seemed only minutes before he had finished speaking. I was left wanting more, even after an hour of listening. Kindness, love, inspiration, empathy, sympathy, acceptance, possibility, thankfulness, purpose and courage are just some of the themes that were touched on, in this riveting and powerful talk.
Sinetra Sarker
Embracing Multi Culturalism: Sinetra is an actress in a very popular English series. I hadn't heard of her, but soon realised that she was very well known. Sinetra's Indian born parents migrated to England, where she was born. Sinetra talked about her resistance to embracing her Indian heritage, and admitted that in her earlier years, she was even embarassed that she was different and had brown skin. The story of how she came to embrace her differences was very inspiring.
The keynote sessions involved about six hours of watching time, so day three was another big day in front of the computer. I devoted eighte
Expo Hall
en hours on this day, so that I could watch the keynotes, visit the expo hall and also watch a few genealogy sessions.
The virtual expo hall was a big highlight of Rootstch for me. I remember in 2016, when I attended Rootstech in person in Salt Lake City, I was surprised at how huge the expo hall was. To check out every stall and watch the demonstrations, it was necessary to cut into session times. The big advantage of a virtual conference is that it's possible to see it all, and miss out on nothing. I spent hours in the virtual expo hall, and checked out all the latest news in genealogy and technology. I even signed up to a data management and mapping website, so that I can record all the information from research into my Axedale Then and Now
DNA
DNA I chose not to do any DNA sessions during the conference. The reason for this is that I want to allocate a big chunk of time to watch them all, as I really need to learn more about DNA as it relates to genealogy/familyhistory. In a few weeks, I'll devote an entire week to watching the DNA sessions and learning as much as I can about this subject. It's been a long time coming and it's about time that I set my mind to it at last.
Chat Room
There was a chat room available at all times during Rootstech, which I fully intended to pop into, from time to time. I had been looking forward to catching up with friends and bloggers, in the chat room. However, I found that I didn't have the time for this on any of the three days. It worked better for me to stay in contact with genie friends through Twitter, during the conference, as we shared information and our expo hall finds.
Attendance
On Day one of Rootstech, it was announced that over 500,000 people had registered. By day three, the graphic below was posted which showed the attendance to be over 1,000,000 people. As it wasn't compulsory to watch sessions, the numbers increased during the conference. I suspect there could have been some who used more than one email addrees, which could have blown the figues out slightly. But even so the attendance figures were incredible and everything went off, seemingly without any glitches.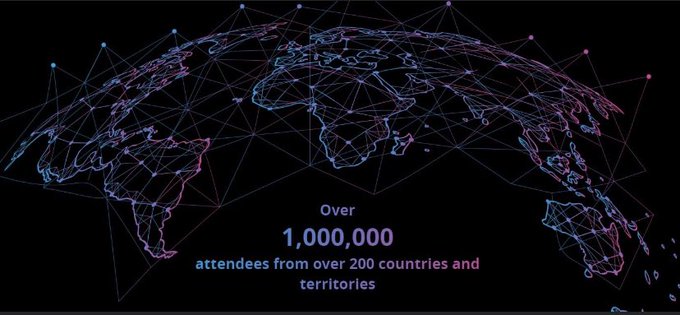 Thank you to all at RootsTech Connect 2021 and FamilySearch for your massive efforts to bring us this amazing and incredible virtual conference.. I also say a big thankyou for making the decision to leave the website open, and the sessions available, for all of 2021, meaning that I can watch all sessions that interest me, over the course of the year.
©2021 copyright. All rights reserved jonesfamilyhistory.wordpress.com