Family History Books #ANZAncestryTime
The recent topic for #ANZAncestryTime, was Family History Books. In case you haven't caught up with it yet, #ANZAncestryTime is genealogy/familyhistory discussion on Twitter. I'm very happy to be one of the moderators, and look forward to our sessions, every Tuesday night at 8pm AEST.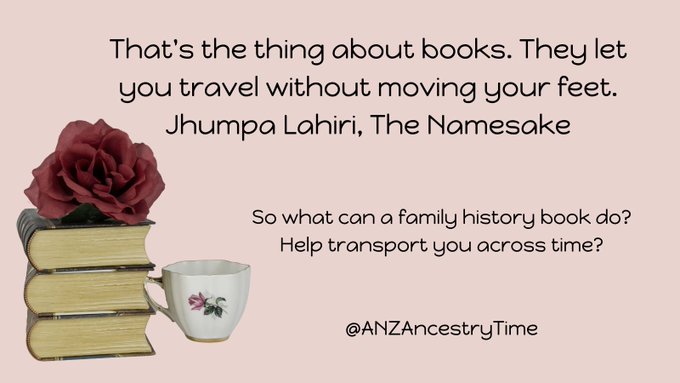 The questions about the books we read, made me think a bit more about my favourite family history books, so I thought I would recordtmy answers here. This blog is archived by the National Archives of Australia, so I'd like to think that one day in the far distant future, one of my descendants might go searching for me and come across my stories here.
*Some of my twitter replies may be expanded on for this blog post.
Question 1
What type of books and topics do you read to help with your research. Ebooks or paperbooks? Journals? Academic theses/publications? Family history, DNA or local history? Buy or borrow books?
I like reading books about an area where my ancestors lived. I prefer reading real paper books, but my family history books are often ebooks as it's handy being able to search text. I'm trying not to collect too much stuff these days, so should start buying ebooks as first preference.

I'm quite new to Scottish research and making it my focus to learn as much as I can. I have been reading quite a few books about family history research in Scotland. I love @ChrisMPaton books, as they are clear, concise and esy to understand.
I usually buy my family history books, as they are handy to have for future research. But I have borrowed books from @PMILibrary They specialise in history of Victoria books. You can go there in person or order from your local library
Question 2
What are your criteria for selection? How or where do you get and share book recommendations?" Use alerts, apps for reading or listing book? Popular book sellers?
I often get recommendations from seminars and conferences. I follow authors on social media, that I'm familiar with, and who I know have expertise in my areas of interest.
I get recommendations also from bloggers, Twitter, FB, Instagram and Goodreads.
I don't often use alerts for books. I use the Goodreads App to record my books, to search for others, and get recommendations.
I do my online book buying mostly from Amazon. bookdepository, bookgrocer, worldofbooks, and fishpond. But I do love browsing in a second hand bookshop. You just never know what you will find. It's a favourite thing to do when travelling
Question 3
Have you found a mention or an ancestor's story in a book or Google book search? Or a book written primarily about your family? Or found about your ancestor's place in a book?
In the very early days of my research I found a book written about my GG Grandmother's family. I was very excited, until I found incorrect info about my family. The author was happy to correct the errors for the the second edition. My family branch in this book was a minor branch for the author.
Question 4
Which books are your go-to reference books? Share titles you found useful for your research? Family history fiction? Favourite authors?
This is one of my favourite books about the history of the Scottish highland clearances. It's made up of newspaper articles and letters to the editor which were in the paper at the time. I've had the book for twenty years, and have read it three times. I'm about to read it again, as I always seem to find new information with each read.
This is my favourite book about Scottish family history research at the moment written by Chris Paton I need to learn all I can about researching in Scotland.
A great book for information about ancestors who served at Gallipoli.
I really enjoyed this family history fiction Kin by @NickDeanBrodie As he traces his family back to the early days of settlement in Australia, the author has included a huge amount of information about Australia.
I'd recommend this book for information on the lives of women on the Victorian goldfields. The author researched this book for ten years, and has written it as a tribute to the women of the Ballarat area. The books we usually read about The Eureka Stockade, focus on the men at the centre of the uprising, ignoring the parts played by the women, who rarely rate a mention.
Images: Goodreads
©2021 copyright. All rights reserved jonesfamilyhistory.wordpress.com