Heroic: 83 Saved From Drowning #AtoZChallenge
The Blogging from A to Z April Challenge is an annual challenge put out to bloggers, to publish a post from A-Z, every day in April, except for Sundays. April 1 is A, and so on throughout the month. Participants can post on a chosen theme or just do random posts with no theme at all. The theme I have chosen for 2021 is Newspaper Articles About My Family Found in Trove. Trove is the electronic archive for newspapers, books, magazines, photos and much more.
I published the story of Godfrey "Bossy" JONES in 2017. This is a repost of the original post including a few updates.
Godfrey Edward JONES, known as Bossy, was born in 1918 at Essendon, Victoria, Australia. His parents were Thomas Lloyd JONES and Annie Olive Maud PAYNE. He died, unmarried in 1980 at Seaford, Victoria.
Bossy became well known in the Seaford area, due to the number of people he saved from drowning in the Patterson Lakes. In one week, when he was 16 years old, he saved the lives of five people, as the newspaper article below explains. During his lifetime he saved 83 people from drowning in the area, and was known as The Guardian of the River. On searching, I found many newspaper articles, reporting on the lives that Bossy Jones saved.
From: The Sydney Morning Herald, Friday 10 January, 1936, page 11
HEROIC BOY
Saves Five Persons from Drowning.
MELBOURNE, Thursday.
Within a week, four children and a woman, have been rescued from drowning at Carrum Beach, by Godfrey Jones, 16 years. Each incident occurred near the mouth of the Patterson River, and in each case the boy had to swim into deep water. Mrs. J. Blackwood was helping several children to cross the channel, near the mouth of the river. She had assisted three children, including a child of her own, to reach the sand on the other side, when she overbalanced, and was carried into deep water, with a small girl, aged about 7 years. Jones ran to the pool, which he reached just in time to save Mrs. Blackwood and the child, who had sunk more than once.
Last Thursday, Jones was bathing near the mouth of the river, when two small boys were carried seawards by the tide washing through the channel. They were quickly in difficulties in 8ft or 9ft of water. Jones dived in and brought them one by one to the sand.
On Friday evening, Jones was cycling home when he heard cries from the large pool beneath the Patterson River bridge. A girl who had been carried into the pool by an incoming tide was in grave difficulties, and was about to sink. Jones dived fully clothed from the bridge and brought her ashore.
Jones, who has been unemployed since he left school, has been in the habit of bathing near the mouth of the river, and he has developed a strong swimming style.
In 1936, Bossy received an honorary award for those lives saved from the Royal Humane Society.
Bossy went on to save the lives of 83 people and became known as 'The Guardian of The River"
From: The Herald, Melbourne, Thursday 9 January 1936, page 8
CARRUM'S BOY RESCUER
SAVED 12 FROM DROWNING
"Bossie" Jones, of Broadway Avenue Bonbeach, who has rescued four children and a woman in a week near the mouth of the Patterson River at Carrum, told a representative of The Herald, who found him bathing there today, that in the past four years he had saved at least a dozen persons, mostly children.
A quiet, unassuming lad of 17, Jones is looking for a job. Since he left school the only work he has been able to obtain was a couple of weeks helping fishermen with their nets. "Swimmers seem to be always getting into trouble around the mouth of the river here," he said, "but yesterday's effort with the woman and children was about the biggest."
Story of Rescue
With Mr N. Robertson, of Pt Nepean Road, Chelsea, Jones yesterday afternoon rescued Mrs J. Blackwood, who is staying at Mascot Avenue, Carrum, and a small girl from 7ft of water in a basin at the mouth of the Patterson River. "I heard someone calling out my name," said Jones, "and I dashed along the river bank and dived in. The girl, apparently, had already been under water about 30 seconds. "Robertson, an old schoolmate, dived in too. We were doing nicely until a strange man came to help us, but he, too, seemed to get into difficulties and he nearly drowned me. He pushed me under the water and I got about three mouthfuls before 1 could reach the surface again. We just kept going and reached the bench all right". After the .attendance of a doctor the woman and child were taken home.
Other Efforts On Thursday
"Bossie" Jones, single handed, rescued two small boys from the mouth of the river. They were being carried rapidly out to sea. On Friday, when cycling home from the beach, he saw a girl in difficulties in the river basin. Jones dived in fully clothed and brought her ashore. On New Year's Day, Jones joined the Bonbeach Life Saving Club. Having taught himself first the "dog-paddle", and then the trudgeon, he is now a strong crawl swimmer.
His Method
"It is very quiet down here, but children seem to be getting into difficulties frequently," he said. "As I have not much else to do. I consider that I may as well keep an eye on them. "Over the past four years, I have gone to the assistance of many youngsters. I just bring them in, give them a few pumps, dry them, and when they have sufficiently recovered, tell them to go home and sit by a fire."
TODAY'S PICTURE of "Bossie" Jones, 16, on the beach at Carrum. Within a week, he has saved five persons from drowning. The two boys in the picture are shown leaving their clothes with Bossy as they go for a swim.
Unsourced article
The following is a transcription of a newspaper article that was published after Bossy Jones' death. It was given to me by a family member, but unfortunately there were no source details for it, and I've never been able to find it
BOSSY JONES (the big man) who was fond of a beer is dead….
They'll miss him in the pub at Carrum where he'd raise a laugh by pouring a glass over his head.
But the people of Carrum are determined that big Bossy will always be remembered – as a hero.
For Bossy was a one-man lifesaving club credited with saving 83 people from drowning in the Patterson River.
A plaque in his memory is to be set up on the foreshore at Carrum and the local council will create a garden.
Neighbors found bossy's body when they went to his Attunga Cres, home where he lived alone, because they had not seen him for two days.
He was headed for a pauper's grave until the news of his death got around and an appeal was opened to pay for his funeral.
"We raised enough for a decent funeral in one day, with enough left over to put up a plaque", one of the organisers, John Hoyne said yesterday.
"The way things are going, if you made a bit of an effort you could build a lighthouse for him", Mr. Hoyne said.
Carrum's feelings for the big fellow were pretty well summed up in a poem, read at his funeral late last week and written by Mrs. Lillian Fisher, whose daughter Christine was one of those Bossy saved;
"A gentle man who spent his time in friendly company
God's guardian of the river, that's what he seemed to be,
He loved the open spaces, the sunshine and the sea,
And the laughter of the children as they frolicked merrily.
When danger threatened he was there, to save all 83,
The guardian of the river, that's what he seemed to be.
Somehow it just won't be the same, dear Bossy, now you're gone,
But in our hearts you'll always live, your memory lingers on".
One of the many local people who Bossy taught to swim was Mrs. Peg Flanagan, who said yesterday that "all of Carrum thought the world of Bossy".
"I went to school with bossy. He was awfully good at throwing pens into the ceiling and getting belted around the backside,, but he beat that by shoving books down his pants.
"All he wanted to do was get down by the river, lie on the sand and pull them out", she said.
And pull them out he did in the days when the Patterson River was deep and treacherous.
Newspaper articles of the '30's record the young hero's feats of pulling five people out of the river in a week when he was only 16, and diving from a bridge fully clothed to save a young girl.
*Please note: Punctuation and paragraphs have been added to the above transcriptions for ease and speed of reading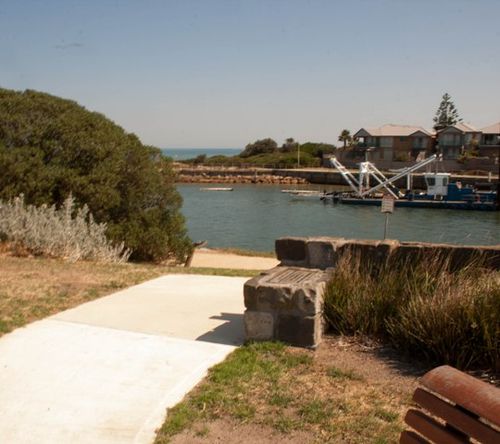 GUARDIAN OF THE RIVER
IN FOND MEMORY OF
E.G. "BOSSIE" JONES
1919-1980
CREDITED WITH SAVING 83 PEOPLE IN THESE WATERS
DONATED BY GRATEFUL CITIZENS
1980
The above plaque was erected at Patterson River Park in 1980, to commemorate the life and bravery of 'Bossy' Jones. The plaque was funded by public donations from the people of Seaford & Carrum Downs.
Death
Godfrey Edward (Bossy) JONES died in 1980 at Seaford, Victoria, when he was 62 years old. He was cremated at the Springvale Cemetery, Melbourne, Victoria.
Herald Sun, June 5, 1980
Jones: Godfrey Edward, Loved son of the late Annie and Lloyd, brother of Pat.
Brother in law of Lloyd, uncle of Lloyd, Trish, Robert, Marcia, great uncle of Sonia and Allison. Rest in Peace, Bossie.
Jones G, Bossy, will be sadly missed – Joan, John Hoyne and family
Funeral Notice
Jones: The funeral of Mr. Godfrey Edward (Bossie) Jones will leave Our Lady of Lourdes, Poulson Street, Carrum Downs, Today, (June 5), following prayers commencing at 2.30 pm for cremation at the Necropolis Springvale.
Tobin Brothers Pty. Ltd.
1936 'HEROIC BOY', The Sydney Morning Herald (NSW : 1842 – 1954), 10 January, p. 11. , viewed 04 Mar 2021, http://nla.gov.au/nla.news-article17219477
CARRUM'S BOY RESCUER (1936, January 9). The Herald (Melbourne, Vic. : 1861 – 1954), p. 8. Retrieved March 21, 2021, from http://nla.gov.au/nla.news-article244823163
Monument Australia – https://monumentaustralia.org.au/display/30694-e.-g.-bossie-jones
Springvale Botanical Cemetery – https://smct.org.au/
For more information: https://sites.google.com/site/originalcarrumcowboys/some-of-the-horses?authuser=0
©2021 copyright. All rights reserved jonesfamilyhistory.wordpress.com