Writing Memoir
Recently, I've been giving thought to the direction that this blog will take. I've decided it's time for a small change of direction. Due to work commitments, I haven't been doing any family history research at all, and I can't see myself getting back to it until I retire. Retirement, for me, is probably only about a year away, but even so, I don't wish to see the blog go into hiatus until I have further research to report.
Earlier this year, I participated in the Blogging from A to Z April Challenge. My theme was The Story Of Me. I posted every day, except Sunday's, with each letter of the alphabet being a prompt to write something about my life.
As a family historian, I understand the importance of recording our memories and our family stories. The Story Of Me was my way of dipping my toe into the water of writing memoir.
I really wasn't sure if I was capable of writing Memoir, or if there was enough material from my life to write about. After all, though I have lived a good life, it has been an ordinary life, in the grand scheme of things.
This led me to my bookshelf, as I remembered a book that I had purchased at the Bendigo Writers Festival last year, after attending a session with author Patty Miller, about writing memoir. I really enjoyed her session and found it very informative. I came away knowing that somehow, I had to record my memories before it was too late.
Patti Miller's book is called Writing True Stories – The complete guide to writing autobiography, memoir, personal essay, biography, travel and creative nonfiction.
I am only a few chapters into the book and am finding it very helpful. Each chapter has writing exercises on different topics such as memories and finding your voice. I've found some of the exercises a little challenging, but surprisingly as I work through them, memories from long ago that I haven't given any thought to, are popping into my head.

My plan is to record the writing exercises here. The first few exercises in the book are quite short and simple. On flicking through the pages, I can see that exercises later in the book are more technical and structured, as would be expected.
From now on, this is going to be the main focus of this blog. Hopefully by the time I have done all exercises in the book, my memoir will be very close to being written. At the very least it will be well planned, with quite a bit of content completed.

There will be a new post every week, on Tuesday and Thursday. Posts will be both the finished product of the writing exercises used in Patti Miller's book and my experience and thoughts about memoir writing. Some posts will be more about the process than the content.
At times I will be using the brief posts written for the A-Z Challenge, as a basis for exercises where appropriate. It is these posts which sparked my enthusiasm to expand on my life story.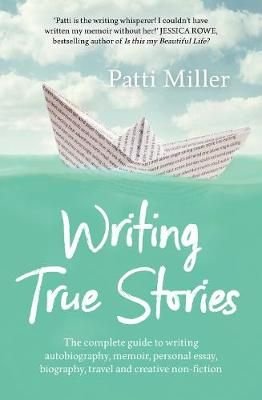 Patti Miller is an award winner memoirist and non fiction writer. She is also a highly successful life-writing teacher who teaches in writing centres all around Australia.

Have you thought of writing your memoir? Or have you already written your memoir? Perhaps you have published your family history. I'd love to hear from you and I promise to answer all comments
Jennifer